DESCRIPTION
The ANX7204 is a high voltage Level Shifter IC for GOA (Gate On Array) or GIP (Gate in Panel) thin-film transistor (TFT) liquid crystal displays (LCD's). It converts the logical signals from the timing controller(TCON) to high level signals to drive the TFT on the display panels.
The device provides 8 high voltage outputs which are switching from VGL to VGH with capacitive load up to 4.7nF. The 14 output includes CK1~CK8, STV1, STV2, and DISCH_VGL, LC1 , LC2 , RESETOUT. It also provides the charge sharing function between clock outputs CK1~CK8.
There are 3 selective charge sharing mode which is choosen by SET2 pin.The ANX7204 is convinient to use. It is availiable in the WQFN3.5x3.5-28L package which reduces board size and make the PCB layout design easier.
FEATURES
l 8-Channel CLK Level Shifters
l High Output Voltage Up to 35V
l Low Output Voltage Down to -20V
l 4/6/8 Phase Output Mode
l Selectable Charge Sharing Mode
l Over Temperature Protection
l 100kHz Input Frequency
l Thin 3.5x3.5 mm 28-lead WQFN package
l RoHS Compliant and Halogen Free

PIN CONFIGURATION (TOP VIEW)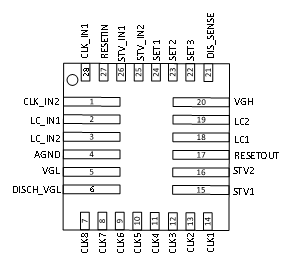 WQFN 3.5x 3.5 - 28l